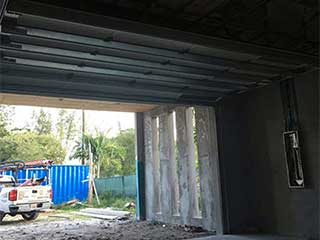 Besides enhancing the look of your property, good maintenance also gives it a chance to inspect all the mechanisms and make sure they are in good working order. Have a look at the following tips to give your door a thorough clean and prolong its life.
Cleaning the Exterior

By keeping the exterior surface of the door clean, you can prevent corrosion while improving its appearance. Some of the items that you need prior to start the cleaning process include a bucket, a hose, a cloth and some gentle detergent or soap. Before starting, check for any signs of rust or any problems with the paint, such as flaking.
Start by spraying the door with a hose, then wipe the door with a cloth soaked in warm soapy water. Next, rinse the door with the hose, and allow it to dry before applying any lubricant or a new coat of paint.

Cleaning the Inside

Using the same tools as above, repeat the procedure for the exterior cleaning, but make sure that you remove the car and any items you may store in the garage to avoid dirt and grime from falling on them. When cleaning the interior of the door, pay particular attention to the springs and other mechanisms, making sure you dry them well when you finish.

Inspecting the Opener

As part of your regular garage door maintenance, make sure you inspect the opener to spot any potential problems. Ensure that the device is working correctly, particularly when it comes to all the safety functions. The photo eyes of the opener should be clean and aligned properly, if that is the case. Next you need to unplug the opener to make sure the batteries are working. Unplug it, and try to click the remote. If it doesn't work, the battery is in need of replacement. Finish the inspection with the remote, looking for any signs of wear and tear and replacing its batteries as well.